Sales Channels allows you to connect and manage extra commerce channels to your Zakeke account. Sales channels are the different platforms where you sell your customizable products, such as Shopify, WooCommerce, Etsy, ...
This feature allows you to share customizable products among several platforms and manage all your orders and stores from a single Zakeke account instead of creating a separate account for each platform.
IMPORTANT (February 2022): at the moment, the only available channel is Etsy. We're working to make it possible to connect any other platforms from the ones already supported by Zakeke.
Creating and managing channels
Go to Sales channels > Add to connect an additional channel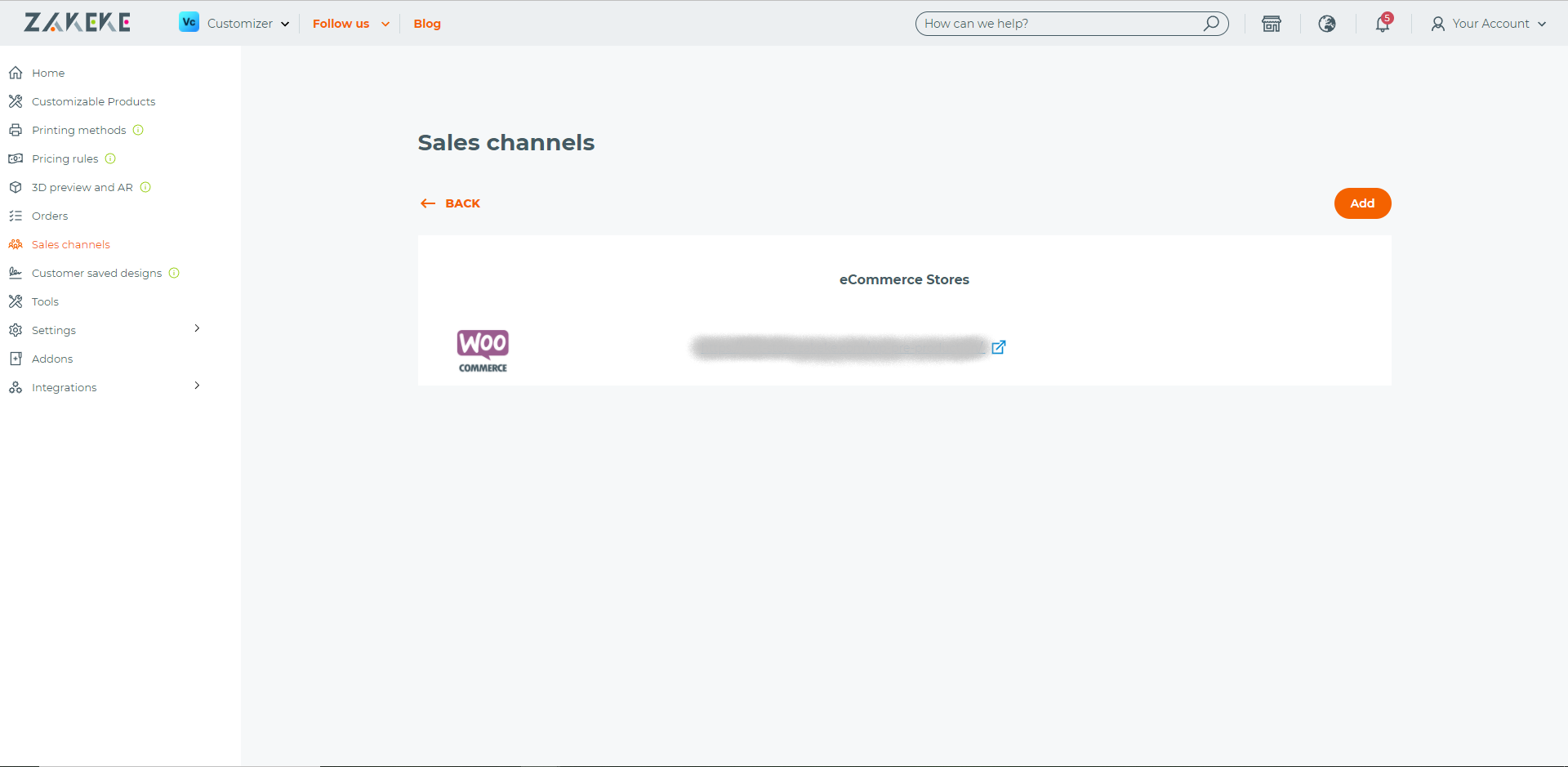 Pricing
For each Sales Channel you add to your Zakeke account you will pay an extra monthly fee that is based on the Zakeke plan you've subscribed for. These are the detailed prices:
Advanced Plan: 12 Euro/month for each extra channel added
Unlimited Plan: 32 Euro/month for each extra channel added
Unlimited + Configurator Plan: 120 Euro/month for each extra channel added
The extra Sales Channel will also work with the same features and limitations you have on your main existing account. For example, if your plan is the Advanced, and you add another Sales Channel, the 25 customizable products limit applies to both Sales channels combined. Same with other limitations like Storage, Product Materials, etc..
The transaction fee, if included in your plan, will be calculated on every Sales Channel.
Disconnecting a channel
If you decide you no longer want to use a channel, from the Sales channels page, click the Disconnect button next to it.
Sharing a customizable product across different channels
Go to Customizable Products > click on the icon under the Actions menu and then select Add sales channel.

Select the Sales Channel.

Select the product on which you want to copy the same settings as the initial customizable product.
IMPORTANT: you can only share a product with no variants and that is not from one of the third-party integrated POD services.