Zapier is a service that allows non-technical users to connect a triggering event from one service with one or more actions in other services. There are hundreds of services connected to Zapier and each connection between services is called a "Zap".
You can use Zapier with your Zakeke account to configure Zapier to automatically upload the print-ready files to Google Drive, Dropbox, One Drive and much more.
IMPORTANT: Zapier integration is available only for Premium plans.
Enroll in the Zakeke Zapier Beta Program
Zakeke's Zapier support is currently in "beta" release form. To use Zakeke from Zapier you must join the beta by going here and clicking the "Accept Invite & Build a Zap" button.
Authentication
Zakeke's Zapier support uses the Zakeke API keys to auth. You can get your Zakeke API keys by going here
Example on how to connect Zakeke to Google Drive
Step 1: Create a new Zap by clicking "Make a Zap!"
Step 2: Give the Zap a name.
On the top left, replace "Name your zap" with a Zap name of your choice.
Step 4: Choose "Zakeke Product Customizer" as your Trigger App.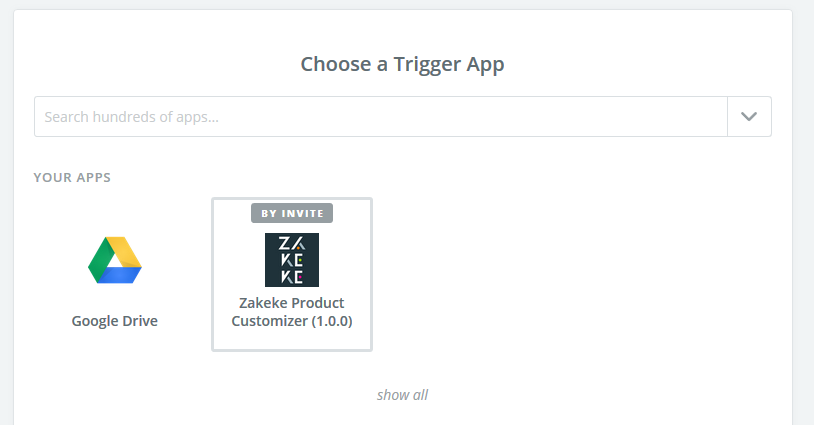 Step 5: Choice "New Order Item" as trigger and click on "Save + Continue"
Step 6: Click on "Connect an Account" and fills the two fiels with the data that you can get by going here
Step 7: Add an action to the Zap.
Click "Add a Step" and then click "Action/Search".
Step 8: Search for "Google Drive" and then click on the Google Drive app.
Step 9: Choice "Upload File" under "Create" and click on "Save + Continue"
Step 10: Enter your Google account information and click on "Save + Continue".
Step 11: Click on the icon "Insert a Field" on the left of the "File" input

Step 12: Select "Printing ready files URL" field from "Zakeke Order Item", and fill the other inputs as you need.
Step 13: Click on "Finish" and then set "YOUR ZAP IS" on "ON".